1. Your most treasured passport stamp?
Well the most treasured physical stamp in my passport is the little mickey mouse that the border people stamped in when I went to Florida, but if we got stamps in our passport travelling inside Europe, it would probably be Germany. I love the country and I cannot wait to spend my year abroad there! I worked in a shop whilst I was in Koblenz and it was a fantastic experience. I also met some great people.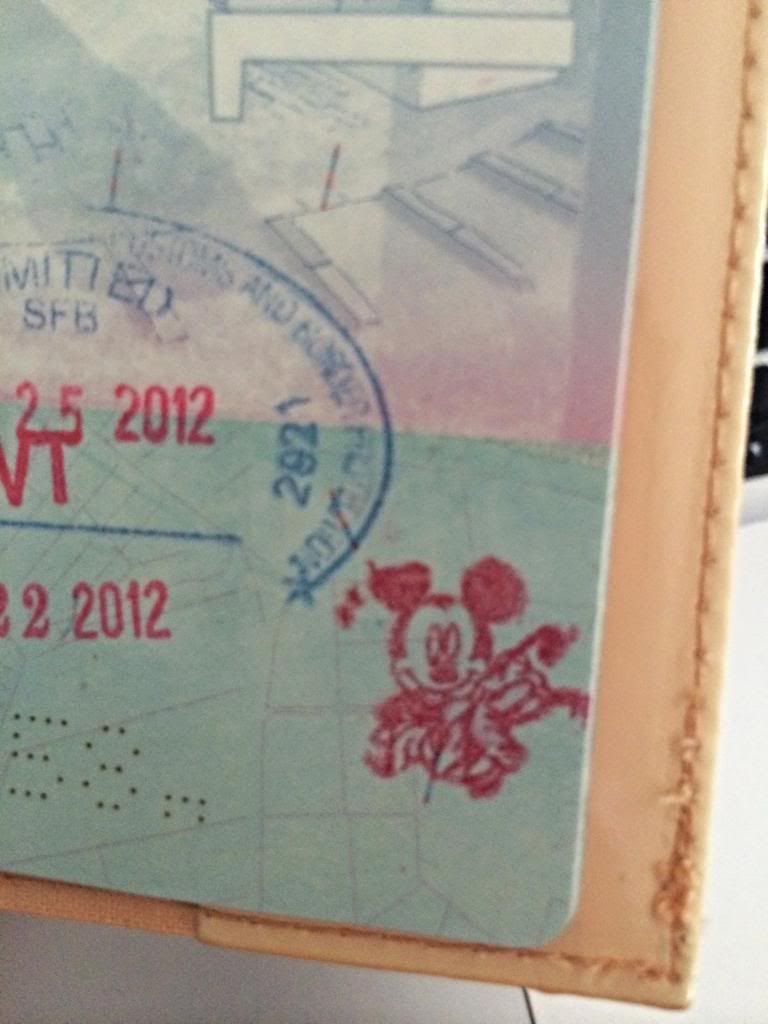 2. Can you recite your passport # from memory if asked?
Nope haha. I think it begins with a 1.
(Okay, I just checked and it begins with a 5, oops. Must have been thinking of my student I.D!)
3. Preferred method of travel: Planes/Trains/Automobiles?
Hmm. I think planes probably, but just because usually that means I'm going somewhere exciting! However I always experience a lot of pain (and when I say a lot- I mean I feel like my head will implode) when we start descending and I always dread this part of the flight. I find trains really chilled and I do enjoy long train journeys too! I'm not keen on car journeys because I can't read or look at screens as I feel sick so I get bored!
4. Top three travel items
Well a camera is an absolute essential! A good book is also a must. And some plasters, because I seem to be more accident prone abroad.
5. Hostel or hotel?
I'm not completely adverse to staying in a hostel, but I definitely prefer my own space and bathroom that a hotel room offers!
6. Are you a repeat visitor or do you explore new places?
I've never stayed in the same hotel or even resort twice (well I can't remember having done so..) so I guess I'm an explorer of new places! I do like getting out and seeing new countries or cities, I feel like there's so much to see! But I would be equally happy going back to somewhere I've loved!
7. Do you read up on your destination (culture, history, safety) or do you wing it?
Well usually I'd read up on a destination before booking a trip as I love experiencing some culture and want to know what the place has to offer. I don't wing it though I'd love to be a bit more spontaneous and do this, and have a bit of a surprise when you reach the place! I'm not brave enough though, and planning a few things before you go helps you get the most out of your trip!
8. Favourite trip website?
Definitely TripAdvisor. So many reviews on pretty much everywhere on there and is really useful on deciding whether to book something. Many reviewers also leave a few tips on the place so can be useful!
9. Where would you recommend a friend to visit? Name a city and why?
Well this depends on the friend a little bit. But I think generally I'd recommend Sorrento, Italy. I went on a school trip here and it was amazing. It has something for everyone - there's history at Pompeii and Herculaneum, culture in the lovely Italian restaurants, stunning views along the Almalfi coast, sunshine, shops, and for the more adventurous people, climbing Mt. Vesuvius!
10. You're leaving tomorrow, money is no option. Where would you go?
Either Thailand or South Africa. These are two places at the top of my 'Places I Must Go' list. I think both of them are very different but offer so much, and it would be an amazing experience.
I nominate any of my lovely readers who hasn't taken part yet, and also Alex from alexidilorenzo.blogspot.com Chloe from
chloelikestotalk.co.uk
Emily from
emilylavenders.blogspot.com
and Chloe from
chloeswatsits.blogspot.co.uk
:)